Eat This, Not That! (Latest Edition)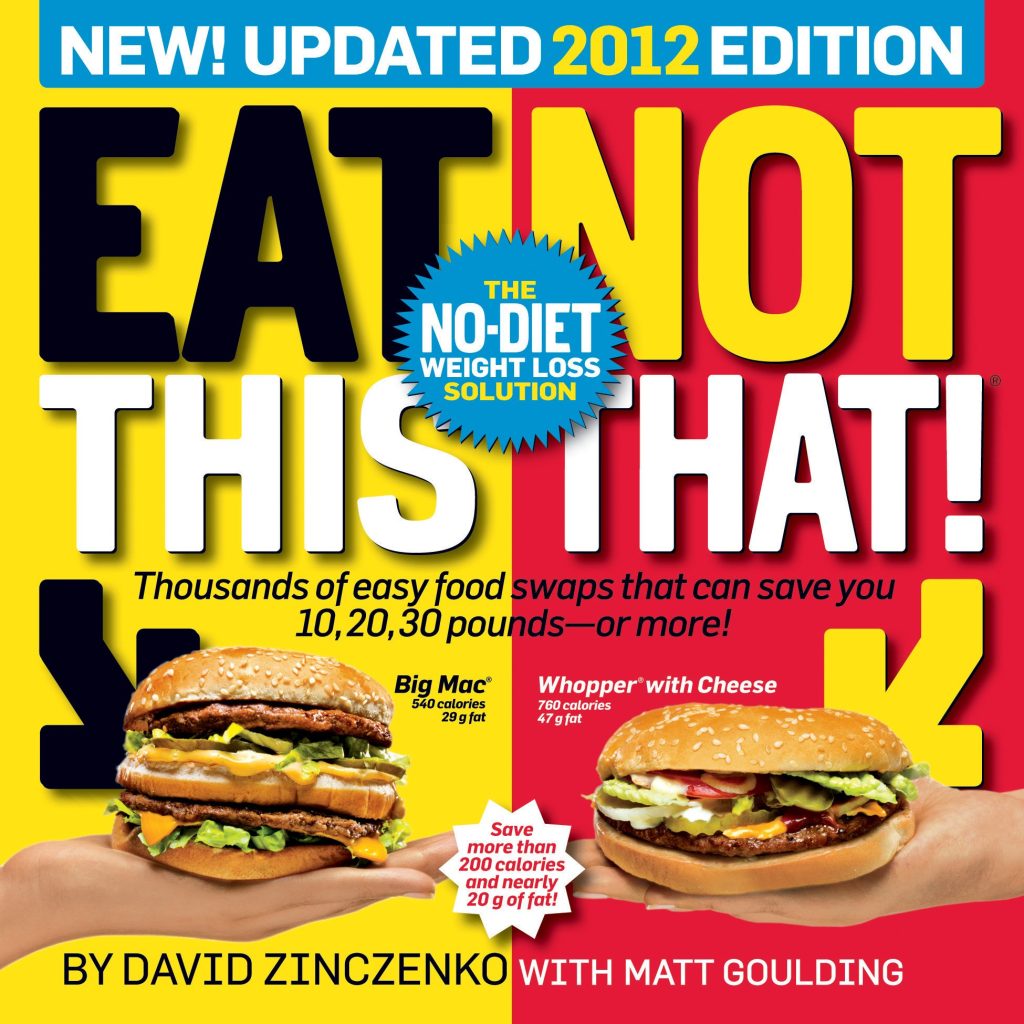 Eat This, Not That! (Latest Edition)
Eat What You Want, When You Want–and Watch the Pounds Disappear!
Americans spend more than $400 billion a year eating out, and behind each burger, turkey sandwich, and ice cream sundae is a simple decision that could help you control your weight–and your life. The problem is, restaurant chains and food producers aren't interested in helping you make healthy choices. In fact, they invest $30 billion a year on advertising, much of it aimed at confusing eaters and disguising the fat and calorie counts of their products.
All of that has changed with Eat This, Not That!. This book puts the entire food industry under the spotlight, and arms you with the savvy tricks and insider information it takes to eat well no matter where you are. With Eat This, Not That! you're the expert in every eating situation, from the frozen food aisle to your favorite fast food joint to your local sports bar. You control your food universe–and lose the pounds you want–because, unlike every other customer, you'll know the smart choices to make–instantly!
Eat This, Not That! is jam-packed with secrets the restaurant industry doesn't want you to know. For example:
Burger King doesn't want you to know that a BK Big Fish® Sandwich and fries have a whopping 1000 calories–nearly half your daily caloric intake! (Fish is usually healthy, but not this kind. Find out why with this book.)
Pizza Hut doesn't want you to know that a standard pizza in Italy contains 500 to 800 calories, but the same meal at Pizza Hut can top 2,100 calories! (You'd need to ride a stationary bike for more than three hours to burn off this mistake. Instead, eat all the pizza you want by making smart choices. Eat This, Not That! shows you how.)
Macaroni Grill doesn't want you to know that a single serving of their Grilled Teriyaki Salmon has more than three times your daily allowance of sodium! (Cut your risk of high blood pressure by making smart choices at the same restaurant. You'll find them inside.)
If only you knew the industry secrets, you could eat at any of your favorite restaurants–or chow down on everything from the company vending machine to your kids' Halloween buckets–and know that every decision you made was smart, healthy, and the best possible choice for you. For example, did you know:
At McDonald's, an Egg McMuffin® is actually a healthy choice, with just 300 calories. (The Hotcakes pack more than double that amount!)
At Krispy Kreme, all you need to do is order the Very Berry Chiller instead of the Mocha Dream Chiller, and you'll save 500 calories! (Do that once a week and you'll drop more than 7 pounds this year–without trying!)
At Chipotle, you can cut 570 calories out of your Chicken Burrito just by ordering it as a bowl (without the tortilla) and asking them to hold the rice. (Same great taste, but with 94 fewer carb grams!)
Choosing a cinnamon roll at Au Bon Pain over Cinnabon will save you 463 calories and 20 grams of fat!
In the freezer section of your local supermarket, a turkey pot pie from Swanson's has 610 fewer calories than a turkey pot pie from Pepperidge Farms.
In the produce aisle, you'll get twice the vitamin C–and nine times as much vitamin A–simply by picking red bell peppers over green ones. (Who said eating healthy was difficult?)
And that's why Eat This, Not That! is going to change everything. It's time to level the playing field. We're all tired of sneaky calories adding to our waistlines, and having to starve ourselves or spend hours on the treadmill trying to burn off the damage. Now–for the first time–you're in charge. With this simple illustrated guide to thousands of foods–along with the nutrition secrets that lead to fast and permanent weight loss–you'll make the smartest choice every time!