Zero Belly Breakfasts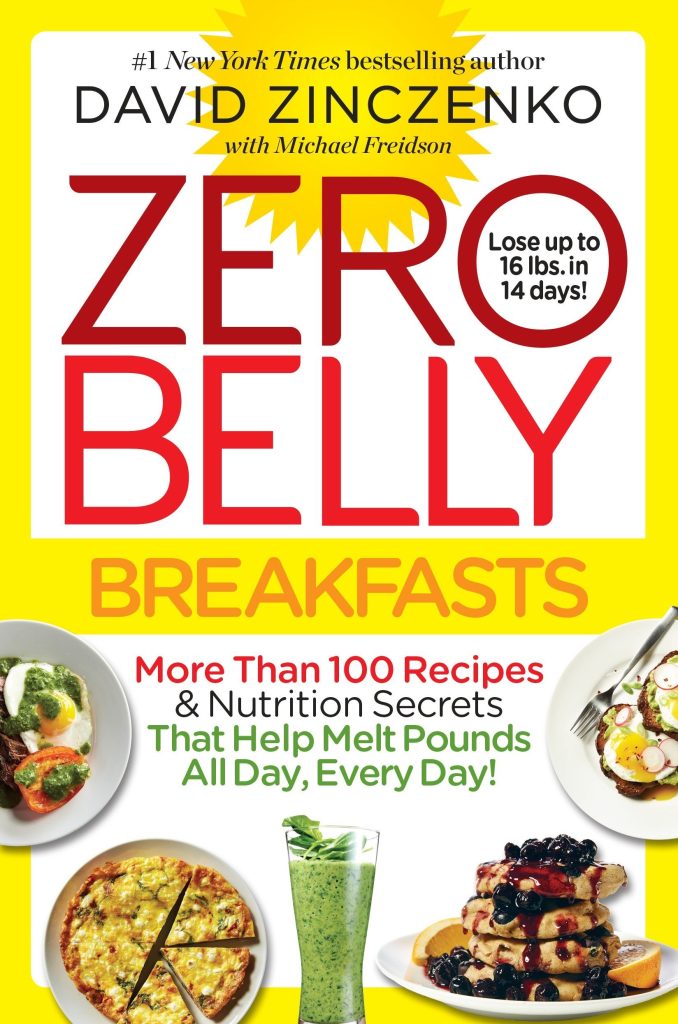 Zero Belly Breakfasts
More Than 100 Recipes & Nutrition Secrets That Help Melt Pounds All Day, Every Day!
Lose up to 16 Pounds in 14 Days with Quick and Delicious Morning Meals!
From the team behind the bestselling Eat This, Not That! and Zero Belly series, Zero Belly Breakfasts will have you looking and feeling great in no time flat, thanks to hundreds of delicious and nutritious breakfast secrets—and more than 100 mouthwatering recipes you can prepare in minutes!
Compliments of today's most influential nutritionists, each recipe features fat-burning proteins, belly-filling fibers, and healthy fats that will boost your metabolism and lead to all-day (and night) calorie burning, including:
• Eggs and omelets
• Pancakes and waffles
• Breakfast meats
• Sandwiches and burritos
• Homemade cereals
• Oatmeals and overnight oats
• And creamy and delicious smoothies
Zero Belly Breakfasts is part of the revolutionary new plan to turn off your fat genes and help keep you lean for life! Nutrition expert David Zinczenko, the New York Times bestselling author of the Abs Diet series, Eat This, Not That! series, and Zero Sugar Diet, has spent his entire career learning about belly fat—where it comes from and what it does to us. And what he knows is this: There is no greater threat to you and your family—and to your health and your happiness.
Zero Belly Breakfasts will help you:
• Lose up to 16 pounds in 14 days
• Melt away stubborn fat, from your belly first
• Put an end to bloating and discomfort
• Detox from unhealthy foods so you can enjoy all-day energy
• Turn off your fat-storage genes and make long-term weight loss effortless
• Look and feel younger and healthier than ever!
You'll be stunned and inspired by the results of an amazing 500-person test panel—men and women who lost weight quickly, and with ease, following the original Zero Belly diet, which included many of these breakfasts. In just the first 14 days:
Bob McMicken, 51, lost 16.3 pounds
Kyle Cambridge, 28, lost 15 pounds
Martha Chesler, 54, lost 11 pounds
Matt Brunner, 43, lost 14 pounds
Here's what makes Zero Belly Breakfasts so effective:
1. They help you keep the weight off.
Science proved it. Of people who've lost 30 pounds or more, 80 percent kept the weight off by eating a high-protein breakfast every day, according to a study done by the National Weight Control Registry, who concluded that "eating breakfast is a characteristic common to successful weight-loss maintainers."
2. They help you eat less.
A study in Obesity found that eating a high-protein breakfast led to "the prevention of body fat gain, voluntary reductions in daily intake, and reductions in daily hunger." Meanwhile, skipping it leads to eating more food throughout the day—and unnecessary weight around your midsection.
3. They're the most important meal of the day—for fat burn.
Your mom was right. "People who eat their largest daily meal at breakfast are far more likely to lose weight and waist line circumference than those who eat a large dinner," reports a 2013 study from Tel Aviv University. "They also had significantly lower levels of insulin, glucose, and triglycerides throughout the day, translating into a lower risk of cardiovascular disease, diabetes, hypertension, and high cholesterol."
4. They taste amazing!
Sometimes like dessert—for breakfast!
Regardless of your health history, your lifestyle, or even your genes, Zero Belly Breakfasts will give you the power to flatten your belly, heal your body, soothe your soul, and wake up happier than ever!