Prepared Not Scared (Pre-Order)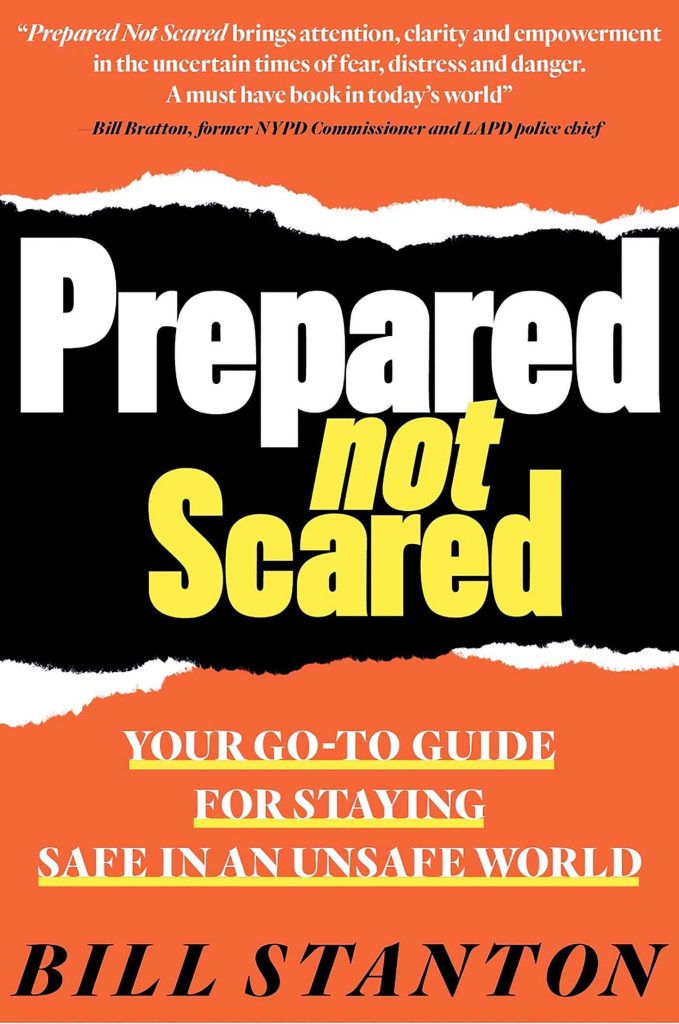 Prepared Not Scared (Pre-Order)
Your Go-To Guide for Staying Safe in an Unsafe World
The ultimate guidebook for protecting yourself and your family from the terrifying dangers surrounding us all written by Bill Stanton, arguably the nation's most recognized and respected expert in personal security and protection. 
What do a CIA spy, FBI cyber-security expert, EMT, firefighter, thoracic surgeon, NYPD police chief, pastor, attorney, Secret Service psychologist, and a Special Forces Green Beret have in common? Two things: Like you, they all care about the safety and security of their families. And they all look to Bill Stanton for the practical, life-saving tips and advice that can help them prepare for the worst.
In Prepared Not Scared, author Bill Stanton has amassed more than 500 years of combined security experience and advice through his connections with world-class experts in criminology, psychology, military science, self-defense, technology, and emergency preparedness. But Prepared Not Scared is no dense, plodding textbook. It moves rapidly, with dramatic storytelling, fascinating expert interviews, practical street-smart advice, and Stanton's own brand of no-hold's-barred humor.
Peppered with useful tips, actionable bullet points, and factoids, the book is both an entertaining read and an easy-to-use reference manual that will help you understand and incorporate the advice into your daily life. With each chapter you read, you will increase your chances of protecting yourself from ever becoming a victim of:
Child abduction
Home invasion
Active shooter situations
Identity theft
Terrorism
Sexual assault
Pet injury or abduction
Con jobs
School violence
Workplace harassment
Cyber crime
Personal security breaches
With Stanton's help, you'll also learn how to quickly identify the bad guys and know exactly how to react in potentially dangerous situations. In all, Prepared Not Scared will give you peace of mind and the confidence of knowing that you have all the tools and knowledge you need to survive and thrive in these trying, sometimes, terrifying times.
Praise for Prepared Not Scared
"The second best thing to having Bill Stanton personally watch your back is to buy his fantastic new book, Prepared Not Scared." —Sylvester Stallone
"Prepared Not Scared brings attention, clarity, and empowerment in the uncertain times of fear, distress, and danger. A must-have book in today's world." —Bill Bratton, former NYPD commissioner and LAPD police chief
"Prepared Not Scared—the title speaks for itself. Bill brings awareness and an important understanding of how to make changes that can significantly improve our chances in a life-threatening situation." —Dr. Drew Pinsky, board-certified internist, addiction medicine specialist, and media personality
"In my career I've reported on shocking crimes—from terrorism to murder cases, kidnappings and beyond—many of which dominated headlines around the world. I've interviewed both perpetrators and victims, and it has always left me with the same question: How could crimes like these have been avoided? Prepared Not Scared provides real answers, giving practical advice on how to stay safe while helping us better understand the way bad guys think. MUST READ." —Megyn Kelly, TV broadcaster
"Working and training with friends and Martial Arts icons like Bruce Lee and Chuck Norris, I've spent my life teaching karate and how to best protect oneself. Bill's book does the same. It's like getting a Black Belt for your mind." —Bob Wall, legendary martial arts master, actor, author of Who's Who in Martial Arts
"For more than 20 years, Bill Stanton has been one of the best known security analysts in the nation, offering practical and easy to execute tips. Now with Prepared Not Scared he uses that expertise to show how some basic planning and strategy, not fear, can keep you and your family safer. Who wouldn't want that?" —Dan Abrams Esq., founder, Law and Crime Network
"We all seem to daily face the looming threats of terrorism, gun violence, and personal attack—and as a doctor, I can confidently say that basic first aid education has woefully failed to keep up with our current challenges. Prepared Not Scared tackles medical emergencies head-on in a realistic, actionable way. Read this cover to cover to boost your confidence and know-how in any medical crisis." —Dr. John Spears, D.O., special forces veteran, counter-insurgency expert, and spinal surgeon
"Prepared Not Scared should be in every home. From protecting your online identity to detecting deception, this book tackles new, modern, and current quandaries in American security. This is not your mother's safety guide. Read it yourself, then share it with your loved ones." —Phil Houston, CEO, QVerity and a 25-year CIA veteran, and co-author of The New York Times bestsellers Spy the Lie and Get the Truth
"Prepared Not Scared is a much-needed addition to American bookshelves everywhere. Just as threats change, our reactions need to adapt, too. The book you hold in your hands is the update we all desperately need to correct what we were taught in school and by our parents. Prepared Not Scared is modernized common sense, filled with smart, quick tips for staying safe and secure, whatever the day brings." —Dan O'Connor, founder of The O'Connor Group, 26-year CIA veteran and former CIA chief administrator of U.S. facilities in Europe, and Central and South America
"In my professional life as an attorney handling many headline cases that play out on the nightly news and front pages of America, I can't think of having a better investigator than Bill Stanton by my side. In my personal life handling the safety and security of my family, it's his book, Prepared Not Scared." —Joe Tacopina Esq.